This month we are happy to say the prize went to Gareth Halliburton. He was absolutely chuffed with his new Oceanic Atmos BCD. Initially he thought we were pulling his leg and thought I was joking because Gareth didn't even realise that he had entered the draw. His wife have been into Dive HQ Christchurch and spent $100 on a present for his birthday. Sorry Danielle,  I may have let the cat out of the bag that his birthday present was coming from Dive HQ as his birthday isn't till next week.
Happy birthday Gareth form the team at Dive HQ Christchurch and Dive HQ New Zealand.
Remember that all you have to do to get into the draw is spend $100 in a Dive HQ in the month of March and you could win like Gareth and all our other monthly winners a new Zeagle Onyx II regulator valued at $749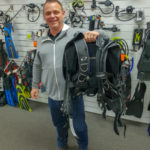 See you in the shop or out in the water over March.