The Waikato!!
Wreck diving is one of my highest recommended specialties, but before you go I would recommend having Deep Diving and Enrich Air Nitrox qualifications as well. Why???? The Deep qualification allows you to dive past your open water limit of 18m. With a lot of the more famous wrecks around NZ sitting at the 30m mark you will want to dive Deeper. Diving on Nitrox can increase your no decompression limits allowing you to stay deeper for longer (just keep a closer eye on your SPG).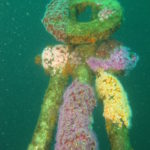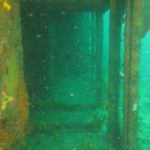 One of my favourite wrecks is the HMNZS Waikato. It lies just off the coast of Tutukaka and it is an amazing fun boat ride out. The Waikato sits at 30m with its starboard ridge around 17-18m. The wreck itself I find very interesting to go see as it once upon a time use to be an old navy warship, 115m long that has broken into two, you can kinda tell it's been through the wars… This boat was sunk purposely for divers to see and explore, don't worry its cannons are still intact which makes an awesome photo opportunity.
As you descend, depending on the visibility, you can generally start seeing the outline around the 8-10m mark. Ship wrecks are like magnets to marine life. They are covered in them, crays bigger than your arms lurking hiding in the little compartments onboard. Schools of fish swarm it unafraid of you and if you're lucky enough like I have been you'll get to see Dolphins or whales.
As a qualified Wreck Diver you can explore the inside of the wreck itself. This wreck has a huge opening in the chamber which makes penetrating the wreck easier and safer reeling in and out with your torch you can see the doors to the different rooms you want to have good buoyancy in here so you don't silt it up too much. You want to also be careful around openings as there can be lots of surge to pull you in so wear gloves and lots of protection.
Even if you choose not to enter the wreck I guarantee you will enjoy every dive here.