With Simon doing leaving, somehow I got the short straw on writing a trip report.  Apologies to those who read this and feel like you missed out on a great trip, you did!
As you can see from the view from the Lermontov Lodge towards Port Gore and the Lermy's resting place, the weather was terrible. Actually there was one afternoon of wind, rain and waves, but most of us dived anyway. The stay at the Lodge was excellently run by Brent and Jayden of GoDive Marlborough with meals provided. It was warm and dry with plenty of space for our group of 7 (Simon, Sue, Andrew, Fiona, Geoff, Stuart and myself) with James and Wayne staying on from the previous week.
Some of us were completing our Deep and Wreck Specialties and it was awesome to do that on the Lermontov, a big step up from the F69 here in Wellington. At 176m in length, it's a big ship and still largely intact. For me, it took a couple of dives to become at ease and just enjoy the dives we planned. And dive planning becomes an obvious requirement here with so much to see at depths of over 34m not to mention the hazards of being outside and inside a shipwreck. It probably also helped that once we had finished our courses Simon's beady eyes were not watching us anymore!
The Lermontov is resting on its starboard side so going inside is a bit of a brain teaser with stairs and bar stools at 90 degrees to where you expect them. It is easy to see how you could get lost, hence the Wreck training. Having the Deep and Wreck Specialties is all you need to have awesome dives both outside and inside the wreck. For the more adventurous, the only problem with having all this fun is you may want to explore further so you will need to do more training and maybe buy more toys. So for me the Advanced Wreck course, which requires twin tanks or side mount, is now on the To Do list. And maybe a Dry Suit, not that it was cold, the water was 15 degrees. There is plenty of fish life and it is cool to see how the ocean is reclaiming the ship.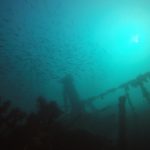 Evenings at the Lodge were usually early nights, everyone being a bit tired after the excitement of diving. We did watch the TV news one night but mostly we sat and talked about important stuff like whether a bleeding orifice is a good thing to have on your dive gear. Also watching an awesome cave rescue documentary based in Finland, in Finish, with no subtitles, 130m deep in a cave in the snow. Anyone for a redundant Rebreather setup?
Photo credits go to everyone but me since I don't yet have a camera. Something else for the shopping list.
A fantastic trip with a great bunch of divers. When is the next trip to the Lermontov? I'll be going, hope to see you there.
Words by Dave, fun supplied by Dive HQ
Dave has just completed his PADI Divemaster Course and is keen to run some more dive trips here in Wellington and around New Zealand!