Nothing was going to prepare me for the day I descended on the wreck of the President Coolidge.
After a short 15min journey from our dive resort through the happiest little village in the world I found myself here. In beautiful landscaped gardens with an opening out to the golden beach covered with broken glass bottles washed up left from the war, like there had been a serious party here 70 years ago. This place really is like no other I've been before.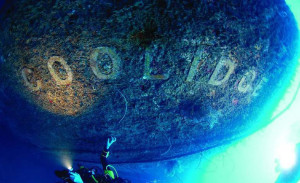 I was finally ticking off one of my bucket list dives. I had six dives planned including one night dive. Gearing up and entering the water I wasn't sure what to expect. As the Coolidge came into view on that first decent its sheer size and majesty were utterly overwhelming. With near 20m of visibility it became clear six dives would never be enough to take it all in.
Through my six dives I explored several parts of the ship, diving the dining room, the medical supplies ,the engine room, the control room, cargo holds 1 and 2 and of course the impressive artillery adorning the upper deck. The highlight for me was the Engine room / control room dive we ducked and weaved our way through the inner workings of this fallen beauty.
This ship being one of the first of its kind to have enormous electric turbine and diesel engines made for an exhilarating dive between two flywheels each bigger than an elephant, then into the control room where there were so many dials and leavers you wouldn't know where to start, on our way out of the wreck we came across something else exploring the decaying Tanks and Jeeps in cargo hold 2 an enormous graceful turtle. That dive definitely had it all.  
I highly recommend Espirito Santo, Vanuatu as a dive destination. Shore dive one of the world's largest and most accessible WW2 Wrecks with so much to explore there's always something new to discover. You'll love it.
Mel Alps – Instructor at Dive HQ Christchurch