Already an open water diver? Wanting to expand your diving skills and knowledge?  Or is it just the next logical step?  In this article we are going to go over some of the many reason why people decide to take the next step.
Practice makes perfect.
The Advanced Open Water Course is designed to build on the foundational skills you learned in your Open Water course. You cover a lot in  information in the Open Water Course, so it's easy to forget things, if you don't have the time to get out diving shortly after you get certified, skills that you have picked up can quickly diminish without being put to use
In your advanced open water course, you will continue learning and enhancing upon your skills. Practicing skills and building on them will help ensure you remember and perfect them. It also helps to avoid developing any bad dive habits.
What's included in the course.
You don't have to be "advanced" to take this course – it's designed to advance your diving, so you can start right after earning your PADI Open Water Diver certification. The course helps build confidence and expand your scuba skills through different Adventure Dives. You try out different specialties while gaining experience under the supervision of your PADI Instructor. You log dives and develop capabilities as you find new ways to have fun scuba diving.
Buoyancy.
The peak performance buoyancy dive enhances upon previously learned skills in your open water course but goes into a lot more depth. Learn how weight positioning affects your body position in the water. Learn how to streamline equipment, causes less drag, increased comfort and better air consumption,
Having better buoyancy control greatly increases your safety in the water. Being able to hold steady in the water column allows you to focus on what you're seeing and enjoy the dive without having to worry about yourself, am I sinking? Am I ruining the nice visibility for everyone else?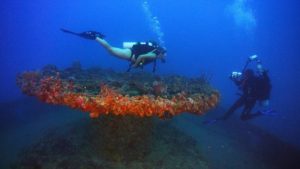 Navigation
Keep getting lost on your dive? Don't know were you are?
The navigation dive further increases your skills with a compass. In the open water course you would of learned how to do a simple reciprocal heading go out and coming back in. whilst this is a useful skill to have that we use on almost all of our dives wouldn't it be nice to have a better understanding of how to navigate a dive site? On this dive not only will you be doing a reciprocal heading, but we will go over how to navigate a dive site using natural features such as bottom topography, depth, aquatic life. Gain a better understanding of gauging distance underwater using kick cycles, air pressure and elapsed time. Learn how to navigate different swimming patters such as squares and triangles to explore a dive site more returning to the same position.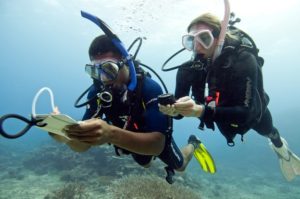 Night
Haven't had enough diving for one day, take the night dive.
The thought of dipping below the surface at night seems mysterious, yet so alluring. Although you've been scuba diving at a site many times before, at night you drop into a whole new world and watch it come to life under the glow of your dive light. The scene changes as day creatures retire and nocturnal organisms emerge. If you've wondered what happens underwater after the sun goes down, take part in the night adventure dive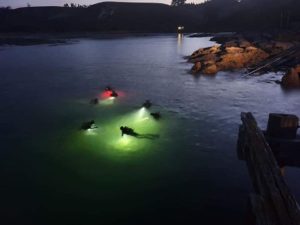 Deep
Once you've gained your advanced open water certification, you'll be able to dive to much greater depths. A regular open water diver can dive to about 18 meters, whereas an advanced open water diver has an extended depth of up to 30 meters, almost double the amount!. This greatly increases your opportunity to dive a variety on new sites, as well as having a better understanding of how diving deeper effects divers, learn about the effects on nitrogren narcosis, sticking to shorter no decompression limits, faster air consumption, changes in buoyancy ,light and colour.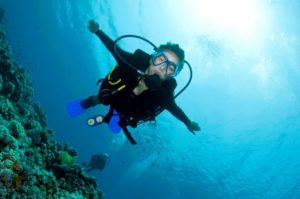 Boat
Sick of diving from the shore? Boat diving, just like deep diving opens a whole new world of dive sites and opportunities that you can't get from shore diving. On this dive you will learn how to safely dive from a boat using proper entry and exit techniques, gearing up in a small space effectively. The use of surface markers, communication techniques and accounting procedures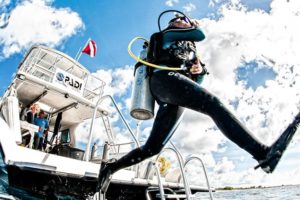 A Taster of what is to come
Diving is so much more than strapping on a tank and breathing underwater. There are many different ways of diving and many different underwater experiences to be had, and the Advanced Open Water Course will let you sample some of these specialized areas. The dives you do in Advanced Open Water are the first dive of a specialty course, so if you enjoy a particular dive and want to learn more, you are already one step towards become a specialist diver!