Dive season has well and truly started so ask yourself
– Are you ready?
– More importantly is your gear ready?
Did you know most dive manufacturers recommend annual servicing of dive gear especially regulators.  Even in this modern day and age of technology, regulators are still a purely mechanical device and like all mechanical things they are prone to wear out (the down side of moving parts).
Although the metal components themselves rarely wear out the O-rings (nitrile or other material) inside only have a relatively short life span.  The special grease used to lubricate the O-rings (and other parts) gets displaced and over time can dry out.  The most common sign that regulators are in need of servicing is a free flow or leak from the second stage either the primary or octi and can range from mild to dive ending, as the internal parts of a first stage regulator wear out the regulated pressure they supply will increase and this is the main cause of a free flowing regulator.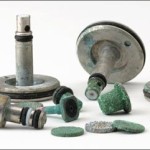 What's the inside of your regulator look like?
BCD's are even more prone to wear because of the ingress of sand and other fun stuff into the BCD (especially the inflator) because of our unique diving environment/method our dive gear gets a lot more exposure to unwanted nasty's (such as sand).
There is a basic check we can do to give us an idea of the condition and performance of your regulators however this is not a complete test it will only give us a vague indication.
To properly maintain the performance and longevity of your regulators and BCD they need to be checked and serviced regularly (preferably annually)
In simple terms servicing involves
Complete Disassembly
Cleaning and thorough inspection for excessive wear or damage
All O-rings (and any other parts required) are replaced
Reassembled
Tuned and tested
All done according to manufacturer's specifications
Our two Dive instructors are also certified service technicians and give customer gear the same exacting level of attention they do for the gear they use.
So if any of this has got you thinking, wondering or questioning the condition of your gear PLEASE COME AND TALK WITH US, we are happy to help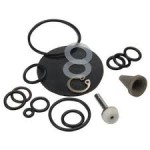 Some of the parts the go into a first stage regulator
Written by Dive HQ Rotorua