Many scuba divers will read the title of this overseas dive destination and not know much about Palau or let alone where Palau is in the world.  Let us educate you quickly. Palau is rated as one of the top 10 dive destinations in the world. It boasts amazing wall dives, World War 2 wrecks, caves, turtles, sharks and the famous jellyfish lake.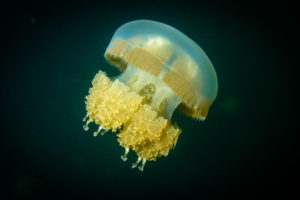 We dived with Sam's Tours and our dive guides and skippers were great. Daniel pointed out the smallest nudibranch's and forever was looking into the deep blue pointing out shark's and turtles. Sam's cater for all diving types, from open circuit divers to closed circuit rebreathers. For those that are wanting to come with us in June 2021 nitrox fills are included for those certified as PADI enriched air divers.
One of the best experiences in Palau is to go snorkelling in Jellyfish Lake. Literally there are thousands of jellyfish swimming around with you. You hike up a small hill and drop into an isolated body of water with a couple of different types of Jellyfish in it. They are completely harmless and give you a sense of being amongst a different world.
Dive HQ Christchurch is taking bookings now for Palau June 2021. If you would like to know more about this amazing destination please contact Richard to learn more.