The Poor Knights Islands boasts one of the most diverse marine ecosystems this planet has to offer, right here, on New Zealand's back doorstep! This collection of islands sits 12 Nautical miles (23km) north east of the Tutukaka coastline. With only a 2.5-hour drive north of Auckland, it's very accessible for anyone who wants to see what these islands have to offer. There's no wonder Jacques Cousteau named this place number 7 on his list of best dive locations in the world.
These islands are now a strict marine and nature reserve to ensure its longevity. Without mankind allowed to capitalise on the biodiversity of the Poor Knights, these islands have been allowed to flourish and grow into some of the most diverse ecosystems you will see. This makes for some of the best diving in the world.
The Poor Knights' Islands are over 11 Million years old and the remains of a now- extinct volcano. Due to the land's Volcanic origins, there are an abundance of caves, archways, walls, tunnels and unique rock formations that differ from anywhere else in the country. Studies show that its unique rock formations aren't due to sea erosion as many once thought, but due to volcanic eruptions causing caverns etc where gas once was. How else do you explain Riko Riko cave (the world's largest sea cave) to have an entirely smooth ceiling?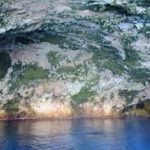 There is no way that sea erosion could form such a clean surface. When visiting the islands, you will also see abundance of life above the water. The island is home to hundreds of species of birds, giant Weta and Tuatara. The most impressive time to view this bucket list destination, is in the summertime. The islands transform into an impressive red, layered in New Zealand's most iconic tree, the Pohutukawa. Known as the NZ Christmas Tree, it is an extraordinary sight, said to have reminded Captain Cook of his Jam on top of his "Poor Knights Pudding" (hence a theory on the islands name).
Unfortunately, the islands weren't always this magical landscape. Prior to Pakeha arrival in New Zealand, the islands were the home to Maori. First inhabited by the Ngatitoki tribe in the 18 th Century, the islands were home to as many as 400 People, living self sufficiently with no fresh water source. They lived peacefully until their chief Tatua left to join a battle on the mainland. Chief Waikato caught wind that the islands were laying unprotected. He proceeded to gather warriors and started the 320km journey by Waka to the islands. They approached during the night and sadly many of the island locals did not survive. When Tatua returned to the islands, he was so horrified by the scenes that greeted him, he gathered the few remaining survivors and left the Poor Knights for Rawhitit in the Bay of Islands, never to return. Since their departure, the islands were then declared strictly Tapu (sacred) and have remained uninhabited ever since.
The Poor knights lie directly on the edge of the continental shelf are met by the currents of the South Coral Sea (North East of Australia), The water flowing from the depths of the continental shelf, met with the northern currents ensures the water is warm, blue, clear and FULL of nutrients. This is what makes the islands marine life flourish beyond anywhere else in NZ.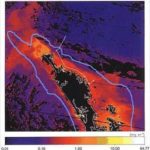 The knights are home to more than 125 species of fish, thousands of invertebrates and many other marine wonders.
Due to the layout of the islands, with its many archways, coves and hidden nooks and crannies. It has become the prime place for many species to reproduce. The sheltered areas provide a safe place for young to grow without the threat of an exposed environment. For species such as stingray, the walls of the archways allow them to mate whilst the rock walls block the sensory tools of predators such as Orca, ensuring them a safe place to repopulate.
Many of the life that "hitch hikes" its way to the poor knights on the northern currents often stay, as its conditions are more than favourable.  This means that the poor knights are one of the only places in NZ that STILL growing in biodiversity every year. It may be hard to believe due to the fact this place is already so extraordinary, but the Poor Knights Islands are only getting better!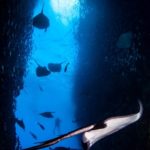 Other Species catch the currents down to the knights in the summertime and early March. They feed on the nutrients and many micro organisms that provide them with a rich food source. Unfortunately, even though the water is warm, it isn't warm enough! Therefore, we only get certain species visiting for a brief moment at certain times of the year. Some regular visitors consist of Humpback whales, turtles and Manta rays. We have had sightings almost every year around the same time. The knights also get one off visitors such as whale sharks! Unfortunately, though, they aren't as regular of a visitor as others.
The Poor Knights has over 50 Dive sites! The diving opportunities around these islands are endless. You have the option of shallow dives with extensive fish life, deep technical diving along a wall full of delicate invertebrates or diving in Rikoriko cave with a whale skeleton!
If you are interested in cave/cavern diving, the poor knights have over 25 caves accessible to divers.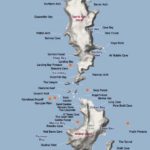 I have been fortunate enough to dive a handful of them. These are some of the best cave dives.
Northern Arch: If you enjoy deep diving and big fish, then this is the dive site for you. Northern arch most definitely qualifies as a deep dive, the archway is practically bottomless! The recreational limit in NZ is 40m. In that 40m, I can promise you that you won't be disappointed.
Even though the archway is narrow, it jampacks an immense amount of life into its narrow walls. If you dive this site during late February and March, you will most likely find yourself sharing the arch with at least 20 stingrays during mating. Throughout your dive, you will discover schools of Blue and Pink Maomao, scorpion fish, hundreds of invertebrates, snapper and many different types of damsel fish, just to name a few. If you look below you into the deep, don't be alarmed if you see a shape the resembles a shark, it will be the huge kingfish swimming through the arch! Partway in the arch there is a drop off, if you a brave enough to head below it, you might be lucky enough to spot one of the rare golden trevally. Once you head out of the arch and to the point you are often greeted by huge crayfish, more stingray and if you are in the water early or late, be prepared to get a passing hello from a Bronze Whaler Shark! This arch way is my personal favourite as it crams everything you could want from the Poor Knights into one EPIC dive.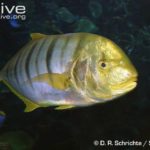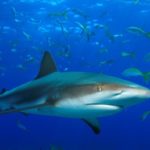 Middle Arch: One of the coolest dive sites the Poor Knights has to offer. Middle Arch is another impressive dive site, suitable to all experience level. The bottom of the arch sits at around 16m, however the bay out from the arch, drops to an insane 80m! Therefore, you need good buoyancy control in order to dive this location. On the south side of the arch, to the right you have very interesting wall dive, often home to loads of male Black Angel fish designated to protect their eggs laid along the wall. If you take the time to look closely at the edges of the arch, you will see the walls littered with nudibranchs. Once looking in the arch itself, head on off to the left and you will find Bernie's cave. In this cave, the fish swim upside down on the ceiling and there is an air bubble big enough to fit at least 5 people in. You can inflate your BCD, talk to each other and your computer still reads that you're at a depth of 9 metres. This is a unique dive site that can host all levels of divers. One of my
personal favourite and is even better on a night dive.
Blue Maomao Cave: If you are a diver that enjoy underwater photography then Blue maomao is a must. With its cave like structures, thousands of blue Maomao and spectacular light beams coming from holes in the ceiling, it makes for some amazing photography. On the far side of the arch you often find stingray, octopus and many more species of fish. Inside the cave, you a strictly given the privilege of a sea of blue (and no, its not the ocean I'm talking about). The Maomao often move around in a ball like formation, and you will find yourself with hundreds of them circling you.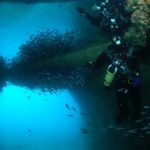 This dive is special as it is quite rare to get such a large number of one species in concentrated place. The lack of other species in this cave allows you to fully immerse yourself in the blue Maomao and really appreciate this fish, considering it's a fish most people overlook. With the cave only being around 8-10m deep, people often free dive to the cave. Due to its shallow depth, your no stop time in increased massively. Therefore, you can spend an enormous amount of time studying the fish and getting the perfect angle for that amazing photo.
Blue Maomao Archway, Poor Knights Islands. New Zealand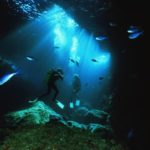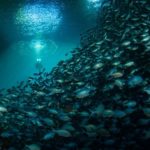 After spending your day doing impressive wall dives, you can come to Blue Maomao arch and have a relaxing shallow cave dive that is still promised to be a dive you won't forget. Sometimes the best dive spots aren't always the most challenging or technically difficult. I think Blue Maomao speaks volumes for that statement.
Lucky last, we have another amazing dive site. The Cream Gardens, this dive site isn't one of the most well-known sites but is equally impressive. The starts is in a secluded bay. Head through the kelp forests and find yourself on the right-hand side of a great wall. The dive appears to be very mediocre to begin, but if you push yourself that bit further, everything opens up. The great wall holds hundreds of sponges, flora and unique marine life. I have a great appreciation of this dive as it is one that forces you to slow down and really look closely at the wall. The more you look, the more you find. It is truly spectacular. This is another fantastic dive site for photographers as the array of colours among the flora is truly spectacular. There is also no doubt that a wall of Gorgonian Sea Fans makes for a great photo! This wall dive heads along to the point, dropping down to 60m where you will be met by Bronze Whaler sharks and Groups of large kingfish. It is a great dive if you are wanting to expand your diving to an area that wouldn't normally entice you. After all that's what diving is all about isn't it? Exploring new parts of the ocean?
This article is merely a pea-sized taster of what this extraordinary group of islands has to offer. With daily charters, liver boards etc there is absolutely nothing holding you back from going. It is beyond rare to find a group of islands, so diverse in their habitats both above and below water. Let alone one that is given the highest protection status in the country, has diving and snorkelling for all levels. And is only getting better!
Grab some friends and spend your summers exploring this exceptional place we Kiwi's, are so privileged to call ours.